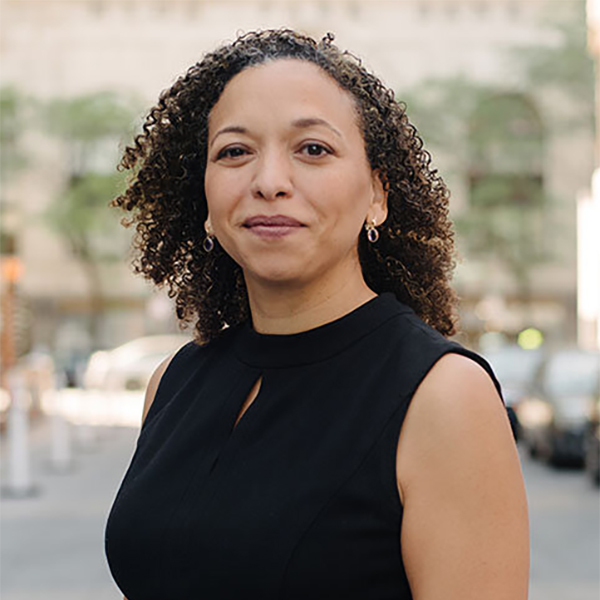 Monica Santana Rosen
Monica Santana Rosen is a Black Latina who has spent over two decades working to both build strong diverse workplaces and enable leaders to do great work. Her career began in philanthropy with the Tiger Foundation, where Monica was part of a team that supported nonprofits working to break the cycle of poverty in New York City.  The foundation partnered closely with nonprofit leadership teams to assess their organizational strengths, and to develop their programmatic models. Monica served as the Executive Director for Management Leadership for Tomorrow (MLT). MLT works to achieve breakthrough results, diversifying leadership in the upper ranks of the public and private sectors. Under her leadership, MLT strengthened its mentorship of young professionals of color making important career decisions. Monica then helped launch MLT's MBA-Prep program before pursuing her own MBA at Harvard Business School.
Monica joined Chicago Public Schools in 2004. She was able to help lead an HR redesign effort, and then managed and led the 65-staff member HR operational team at CPS. During her tenure with the team, called Employee Services, average transaction turn-around time improved from 8 weeks down to 3 days, call answer rates from 45% to 93%, and first call resolution from 45% to 75%.  Monica then moved into a Talent Management Officer role, where she focused specifically on leadership pipelines for the then 48,000 employee organization. She spearheaded the redesign of a principal screening process, launched a local and national principal recruitment effort, and supported the strategic promotion, support and succession planning for principals.  She also established the Leadership Development and Support unit, where she oversaw the district's Principal Induction program and support for the district's 26 Chief Area Officers.
Monica spent the last ten years building a strong and mission-focused consulting practice. In the fall of 2016, Monica launched Alma Advisory Group, LLC. Alma is a Black Latina-owned business with the mission of fostering the people, practices, and culture that enable staff to do their best, teams to do great work, and organizations to accomplish outstanding results.